Wool Omnibus (Silo #1) by Hugh Howey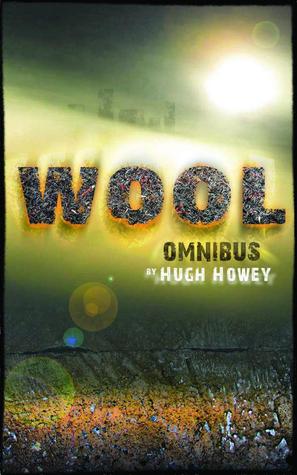 "These buildings"--he pointed to what looked like large white cans sitting on the ground--"these are silos. They hold seed for the bad times. For until times get good again... This is a silo. They put us here for the bad times."
The world has become a toxic wasteland forcing people to live underground in an enormous, multi-story bunker called a silo. There only appear to be two rules in the silo: don't commit crime and don't speak about going outside. The punishment for breaking the rules: being sent out outside.
This book actually started out as five self-published novellas; the Omnibus edition is all five novellas combined to a comprehensive novel. I was surprised by how much I enjoyed this because self-publishing tends to be sloppy and dystopian tends to be sad... I was ready for a grammatically incorrect depress-fest. There's nothing sloppy about this book, although it is one of those stories difficult to review without giving too much away.
Hugh Howey thought up a world where the characters not only live underground in fear of the outside world, but they haven't a clue how they got underground. Their religion tells them that God gave them the silo and planted them all inside it. A camera on the outside allows a projector on the inside to broadcast a live action image of the barren world above onto a wall in the cafeteria. And while characters may admire the view, they are not allowed to speak of it, or else they could be sent to
cleaning
.
Cleaning,
is basically their idea of capital punishment; the transgressor gets a last meal of his or her choosing, then sent outside to clean the camera lens in a suit with a limited oxygen supply. And while many of those sent outside claim they won't do it, they won't clean... Once outside, they all clean.
When the silo looses its sheriff, Deputy Marnes and Mayor Jahns choose Juliette Nichols, a quick thinking mechanic to replace him. Juliette who eventually evolves to become our main protagonist, is probably the best character in the bunch. She won't be bullied and she won't be outsmarted; she's committed to doing her job right, even if it means risking her own life to expose a massive secret. A secret that drives people to murder, that drives people to war.
The only thing, I really didn't understand about this book, is why the
Cleaners
choose to clean... I totally missed the point on that one. A last act of solidarity, maybe? If it were me and my friends sent me to die, I think I'd pick up a big rock and use it to crush that lens. Screw solidarity... But overall I think the book was well written, well thought out and entertaining. There's enough suspense to keep the pages flipping by and enough story to keep me thinking long after the last page was read.
Rating: 5/5