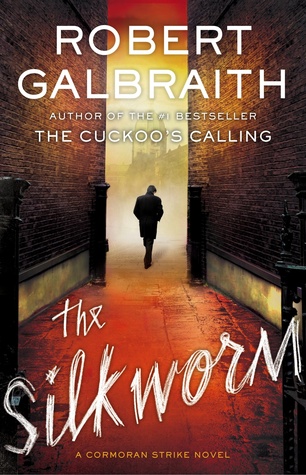 "...writers are a savage breed, Mr. Strike. If you want life-long friendship and selfless camaraderie, join the army and learn to kill. If you want a lifetime of temporary alliances with peers who will glory in your every failure, write novels."
― Robert Galbraith, The Silkworm
Cormoran Strike and Robin are back in the second Robert Galbraith novel (whose last name I can never spell correctly the first time around). After solving the Lula Landry case, Strike's business is doing better; he's able to take Robin on as a permanent employee, he's got an apartment, and more clients than he can accommodate. Then eccentric Leonora Quine walks in.
Her husband, a drama-addicted, erotic-horror novelist, has gone missing and she wants Strike to find him. He accepts the case of the missing writer, only to discover that Owen Quine's newest novel depicts his wife, friends and business associates as sexually depraved monsters; giving just about everyone motive to make the author disappear and ensure the novel never goes to print.
I thought this book was actually a step up from the first novel. It's infinitely more suspenseful, I couldn't put it down. I couldn't stop turning the pages because I felt just as desperate for answers as our protagonists. There were certain things I applauded; like the author's ability to balance the stories of Strike and Robin's personal lives with the mystery they have to solve. I also like how the author handled those personal problems; choosing not to cheapen the plot with unnecessary romance. Right now, romance is very in, and I think you see romantic subplots stuffed into stories, just because.
If I had one complaint, it's with what The Quine Case and The Landry Case have in common: a surplus of people who would like to see the victim dead. That being said, in the first book when Strike solved the case it was seemingly guesswork with very little clues used; in other words, I didn't see how he reached the conclusion.
In
The Silkworm
, when Strike unmasks the criminal, I can see very clearly how all the clues add up. I can see how exactly how the perpetrator planned and carried out the crime. So despite the similarities between the two books, this one had the better ending. Which says to me, Robert Galbraith is improving with every book... And leaves me curious for more.
Rating: 4/5